Occurrence

I am reformatting my current machine, or I am transferring to a different machine for which I do not know the HardwareID yet.
For example, an employee has left the company, but we do not have a new computer to transfer the licence to yet.

Solution

To ensure that you can retrieve your licence in the future, you can "Park" a license by transferring to the Encom Licencing server, and retrieving this at a later date.
NOTE This is a manual process and relies on a email being sent via your Outlook MAPI client to us, and is manual process and mauy take up to 2 business days to process. If you have issues activating the license again, you can check if it has been sucessfully received and process by contacting licensing@dataminesoftware.com

You can park a licence on our server by following the normal transfer dialog and select the Return License option. You will be prompted to email the return code.

In the future when you wish to re-activate the licence simply open or install the software and send off the request the activation as usual via the licensing dialogs.
Steps to do this are -
1) Run
MapInfo Discover and select the PRO tab.
Navigate to the Add Ins> MapInfo Discover > License Manager o
ption.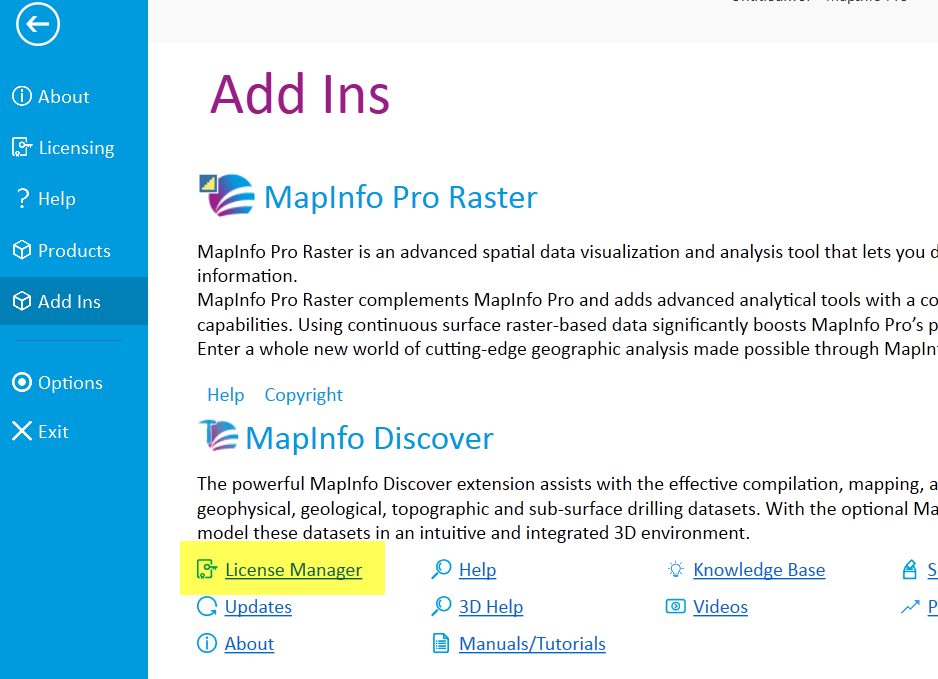 2) Under the Transfer tab, select the Return License check box (under Step 2), then press the Transfer button
and select Yes when prompted to send the email from your Outlook.
3) Check in Outlook, under your Sent Items for a email sent to licensing@dataminesoftware.com. If you cannot see this sent email, manually email licensing@dataminesoftware.com and attach your files from -
C:\ProgramData\Encom\ETDISK.SEC
C:\ProgramData\Encom\Transfer_Log.txt
Note these are hidden folders you will need to enable the option to view them -