Occurrence

I have install the latest version of Discover. This error occurs when I start Discover or after entering the activation code I was given.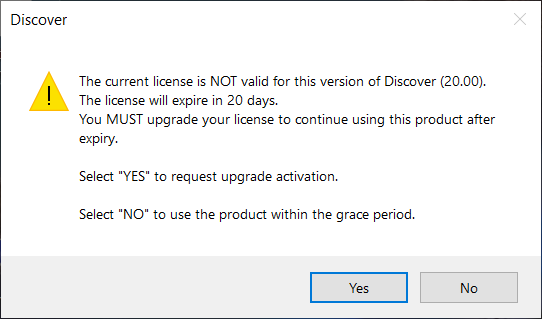 Solution

This warning occurs when have not activated your license for the new version. but you have a valid license for the immediate previous version. You will automatically have a 20 day trial period for the new version.
To activate your license for the new version -
Click Yes to request upgrade activation.
In the Customer No box, type the 7-digit customer number.
In the Serial Number box, type the 10-digit serial number. If upgrading an existing license, the current serial number is displayed.
In the User Name box, type the name of the product user.
In the Email box, type the contact email address. Repeat this in the Confirm Email box.
Click the Automatic button to automatically submit the activation request.
If the automatic activation is successful, the product is now licensed and ready to use.
If the warning message persists, it means you are not eligible for the upgrade.

You can continue to trial the new version for the remaining days in the grace period, after which you will need to purchase a licence upgrade or install the previous version.
To enquire about an upgrade, contact licensing@dataminesoftware.com