1. Install a supported version of ArcGIS Pro on the computer and license this.
2. Install Datamine Discover for ArcGIS Pro Addin.
3. If you have a current standalone license, return this first by going to Discover>Licensing>Return License.
4. Start ArcGIS Pro and you will be prompted to license Datamine Discover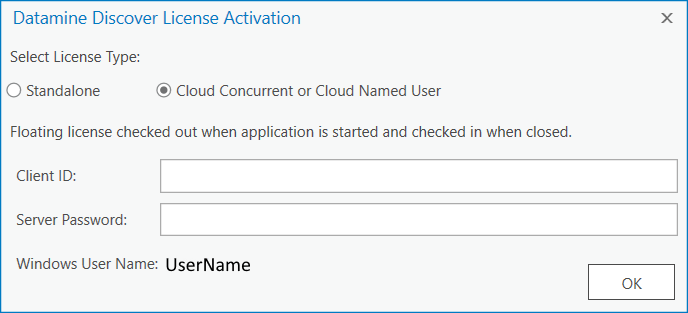 5. Select Cloud concurrent or Cloud Named User. Enter the client ID and server password that has been provided to you by your license administrator. It can also be found be logging into your Cloud Customer Portal here
https://ls53.rlmcloud.com/rlmcloud/
and click the server Config.
If you are using a named user license, the license will be automatically assigned to your windows user name, and can be used on any computer with your username. Your current Window's user name is shown at the bottom of the activate license dialog.
If you have connection issues, please contact your license admin or IT support to check the required ports are open on your network connection or VPN.